Hows Wood bed and breakfast is situated at Hollins farm, next door to the National Trust campsite at Boot, Eskdale.
The bank barn linked to the farm house has been converted to make three luxury ensuite bedrooms and a breakfast area. This part of The Lake District is perfect for walking in the valleys or on the fells at any time of year, with easy access to the West Coast and Scafell range. Great spots for wild swimming are in easy walking distance. West Lakes Adventure, based just up the road provide instruction and guiding for more challenging great days out in the ghylls, lakes and rivers.
Bed and Breakfast at Hollins Farm
The name Hows Wood comes from the small area of forest opposite our lane end which is a piece of woodland being managed by the Friends of the Lake District, much of the woodland is new growth silver birch so it seemed fitting to give our new venture a new name.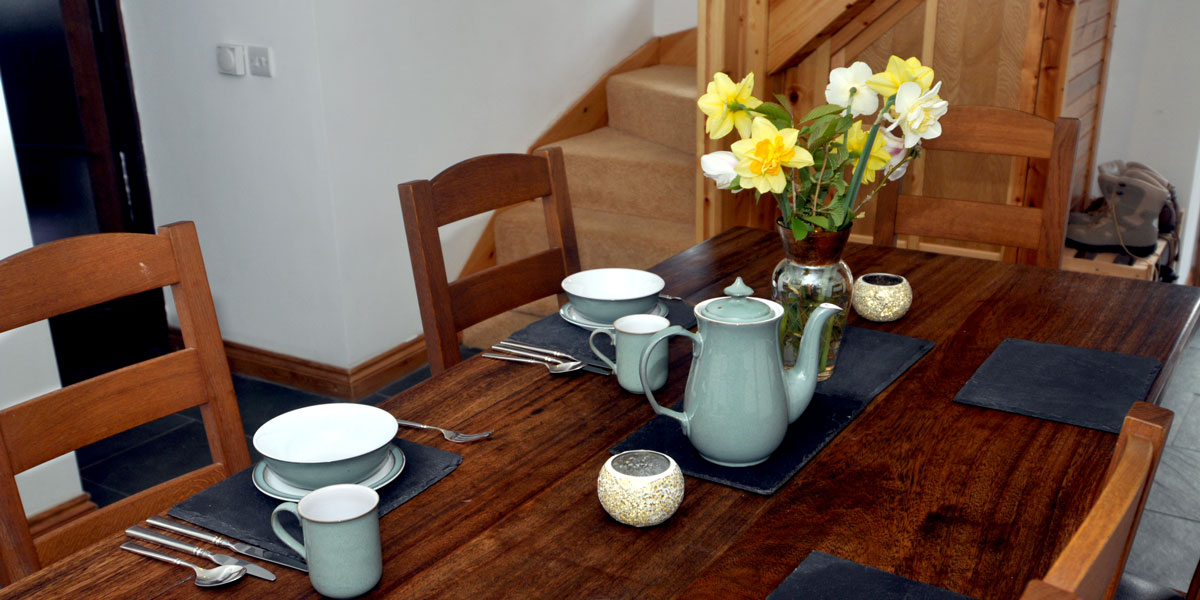 At breakfast expect a great full Cumbrian, free range eggs, seasonal fruits and maybe the odd supprise!
With many local attractions for lovers of our landscape and history Hows Wood is at the heart of Eskdale, near the village of Boot. 3 pubs give a choice of dining options, with Brook house Inn being the closest, with the best food, great real ales and an outstanding collection of Malt Whiskies, not just from Scotland but from all around the world.
More green than just the fells
Hollins farm has been on this site for about 400 years so has seen a fair bit of change in its time, infact it was the first property in the area with a biomass boiler and one of only two places making use of the sun with photvoltaic panels. The new section of the house has been very well insulated and the all the lighting is low energy LED with A rated appliances.